EnduroSolv
Benefits
We are a member of the Better Business Bureau with an A+ rating, and adhere to the BBB Code of Business Practices.
We have at least a 10% discount on practically everything we sell on the on-line store. There is also free shipping in the lower 48 states of the USA on most orders over $100.00. These terms are in addition to any posted sale prices. Check the Terms of Sale Tab above for details and exclusions.
EnduroSolv Water Treatment is the next generation of cooling tower and boiler treatment. It not only provides all the benefits of traditional water treatment chemicals, but also offers many advantages for you and your employees.
No Spills
No Drums
No Freezing
No Dust Hazard
No Heavy Lifting
No bulk Chemical Storage
No Need for Containment Dikes
No Need for Personal Protective Equipment (PPE)
Lower Workman's Compensation Risk
Lower Floor Space Footprint
Lower Carbon Footprint
Lower Water Footprint
Lower Freight Costs
A Green Product
For additional information, or to find a dealer in your area, go to EnduroSolv.com
Is it Green Marketing or Green Washing? Click Here to learn more.
To view our fact sheet on the benefits of solid products to the environment, Click Here.
WaterSTX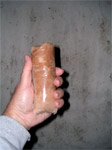 WaterSTX are a subset of the UnduroSolv product line and carry with them all of the benefits of the EnduroSolv product line listed above. They are packaged in a water soluble bag as the WaterSTX shown here. They are easy to use and can be placed in a tower basin, directly in a boiler hand hole, or in a shot feeder or filter feeder such as the one shown on the Equipment Description page.
They are available in a number of different formulations for a number of different purposes. They can be used as:
As a "Catch up" treatment to quickly overcome a chemical deficiency in your cooling tower. In this application the WaterSTX formulation would be identical or similar to your regular treatment product.
As a complete closed loop treatment in several different formulations to meet that purpose.
As an on-line cleaner to remove scale or iron from closed loops, boilers, or cooling towers
As a boil-out product for new boilers or recently retubed boilers to remove mill scale and protective oils and greases prior to putting the boilers on line.
As a passivation product to protect galvanized surfaces from corrosion before putting a new cooling tower or evaporative condenser on line.