Custom Quotations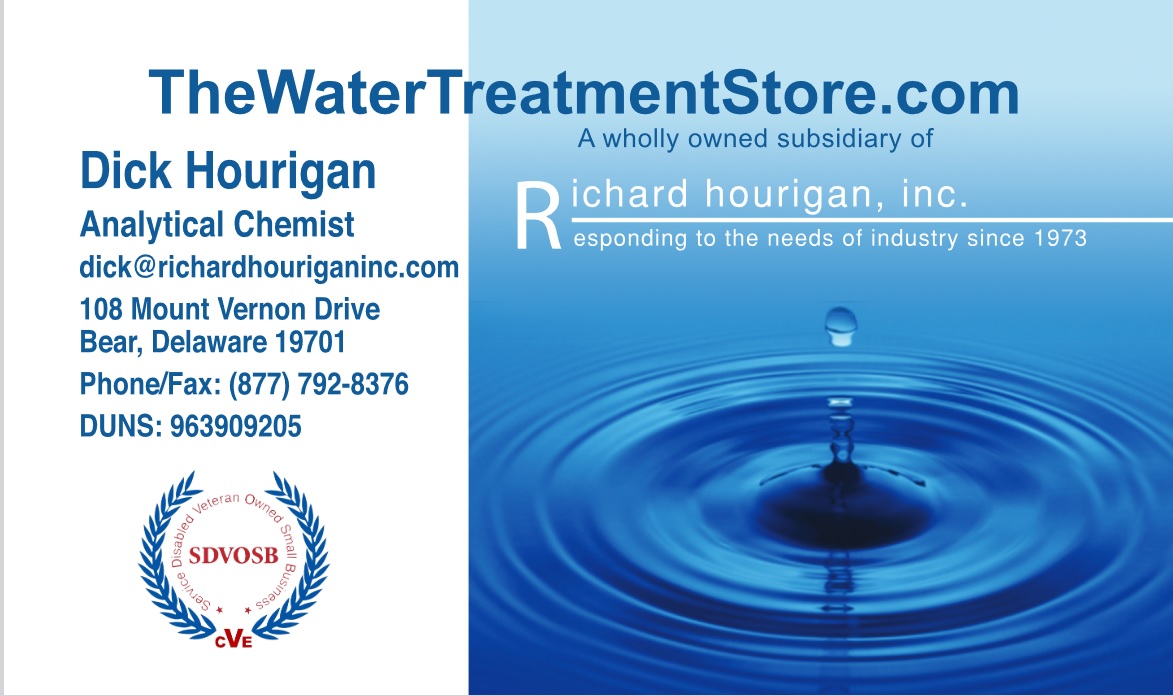 To see a large version of my Business Card Click Here.
Richard Hourigan, Inc. is a Service Disabled Veteran Owned Small Business (SDVOSB).
We are registered on SAM.GOV and VETBIZ.GOV. Our Duns Number is: 963909205. Our Cage Code is 370N8.

Click here to visit our owner's Army Page.
10-30% Discount on orders (at Check Out).
Free shipping & handling on most orders of $100.00 or more (unless otherwise marked).
For more details, CLICK on Terms of Sale, above.
WE PROVIDE MORE THAN JUST WATER TREATMENT!!
We are actively pursuing any business that relates to our strengths, which are:

1. Corrosion Analysis and Control,
2. Deposition Analysis and Control,
3. Microbiological Analysis and Control,
4. Energy and Water Conservation, and
5. Maintenance related to the above four.
USE THE SEARCH FUNCTION AT THE TOP OF THIS PAGE TO SEARCH FOR SPECIFIC TEST KITS OR KEYWORDS.
Click here to report an error on the store. If we agree and fix it we will award you a store credit in the form of a coupon for your help.
We are now using PayPal as our Payment Processor. This will allow you to use PayPal, Visa, MasterCard, Discover or American Express for your on line Check Out. Note that you will be taken to a secure site for check out and that we neither see nor retain your credit card information